Met de kroning van King Charles op zaterdag in het vooruitzicht, is het hoog tijd om je koninklijke theevoorraad op peil te brengen. En wat is er beter dan het gloednieuwe premium thee-assortiment van Rombouts genaamd Majes-T? Met maar liefst 14 verschillende smaken, waaronder Citrus Cinnamon, Pure Lemon, Golden Chamomile, Vanilla Caramel en Green Jasmine, is er voor ieder wat wils. En als kers op de taart zijn tien van de variëteiten Fairtrade gecertificeerd. Dus of je nu een echte royalist bent of gewoon van een lekker kopje thee houdt, Majes-T is de perfecte thee voor deze bijzondere gelegenheid.
Pennyroyal tea
De Belgsische Hofleverancier heeft ook gezorgd voor een luxueuze houten displaydoos om het assortiment compleet te maken. Het theeservies is speciaal ontworpen om de theebeleving compleet te maken. De smaak, geur, kleurrijke theeblaadjes en bijzondere vorm van de builtjes zorgen ervoor dat het drinken van Majes-T een ware ervaring is.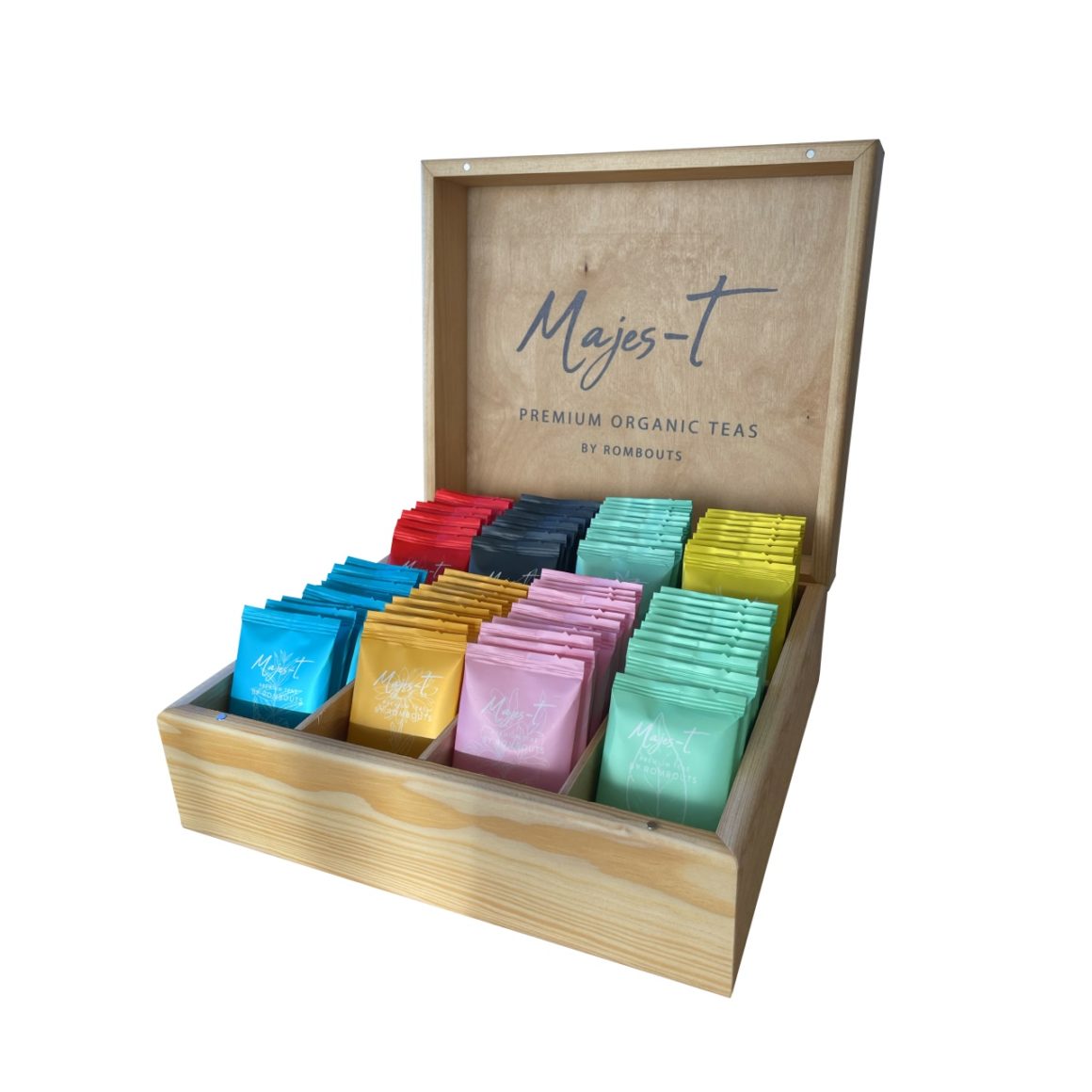 Xavier Rombouts, Gedelegeerd Bestuurder, legt uit: "Bij Rombouts gaat het niet alleen om kwaliteitskoffie, maar om het creëren van waardevolle momenten. We willen ook voor de theegebruiker een kwaliteitsvolle ervaring garanderen. Naast high tea is er steeds meer vraag naar dranken die een gezonde levensstijl ondersteunen. Daarom hebben we een nieuw, premium en volledig biologisch theegamma samengesteld."
Om de nieuwe thee-assortiment te testen, hebben we enkele van de smaken geproefd. De Citrus Cinnamon is een uitstekende keuze voor liefhebbers van kruidige thee. De aroma van kaneel in combinatie met de citrus maakt het perfect voor de ochtend. De Vanilla Caramel heeft een subtiele, zoete smaak en de Green Jasmine heeft een bloemige smaak met een vleugje jasmijn.
Het volledige gamma en toebehoren zijn te ontdekken op Rombouts.com, maar zijn ook exclusief verkrijgbaar in de horeca. Met de lancering van Majes-T is Rombouts vastbesloten om zowel de koffie- als thee-ervaring naar een hoger niveau te tillen.

Bestelllen kan U hier: http://www.rombouts.com